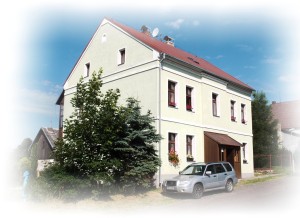 Pension Florian invites you to stay in a historical town of Horní Blatná, located in western part of Ore mountains surrounded by beautiful scenery. Accommodation is provided in five apartments (rooms equipped with toilet, shower and kitchen edge). Additional two rooms are also available (just beds). In the whole pension you can access free Wi-Fi and on the top floor there is a common area with satellite TV and desk games. Ski and bike storage is available on the ground floor an parking spots for your cars you can find right next to the building.
Surroundings of Horní Blatná provides many opportunities for sport activities and cultural exploration. In summer there are hundreds of kilometres of marked hiking and biking trails going through forests, meadows and peaks providing wonderful view into the land. There is a possibility of rock climbing in Strašidla, Holubí skály or Teufelsstein in Germany. The rocks are suitable for beginners but even an experienced climber can find the challenge there.Volleyball, soccer and basketball courts are also available for free use in Horní Blatná and a petanque playground in the backyard of the pension (balls set is available in pension)
In winter season there are in proximity 80 km of groomed cross-country ski trails (Ore mountain ski trail). If the snow conditions are good the groomed trails start about 30m from pension. Ski slopes for downhill skiing and snowboarding are in neighbouring towns of Pernink (3km) and Potůčky (6km) easily available by car, train or bus. Bigger winter ski resorts like Klínovec and Boží Dar are also reachable by car or ski bus leaving from the village in regular intervals.
Through the whole year you can use indoor swimming pool and sauna in Potůčky or Nové Hamry.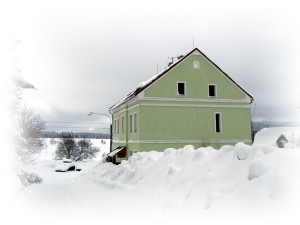 Horní Blatná is a renaissance town established in 1532. You can find here many Gothic-renaissance buildings situated in traditional perpendicular arrangement. The dominant of the town is the church of Sv. Vavřince with it's tower from 1605. Last main structural changes were made in 1754. One of the present most beautiful buildings in the town is a municipal museum from 1754 which is mainly dedicated to the history of tin mining. At the museum doorsteps the educational path (commented in Czech and German) starts and is also dedicated to a history of mining. The path will lead you to a natural phenomenon Vlčí jámy with the whole year appearance of snow and ice. These pits were created by collapse of old mines. From there the path follows Blatenský příkop – a unique construction of water channel 11km long built in 1540. You will also visit Blatenský hill with 21m heigh lookout. On the top you will be in a altitude of 1044m and you will see a miraculous view of Ore mountains.
Looking forward for your visit.